Episode Overview
On Wednesday, September 1st, we were joined by three great experts to talk about understanding trends and your competition.
We were joined by 3 expert entrepreneurs;
Daniel Francavilla, Strategist & Partner, King Street Media
Mallory Greene, Co-Founder & CEO, Eirene
Shameel Anwar, Founder of Blankverse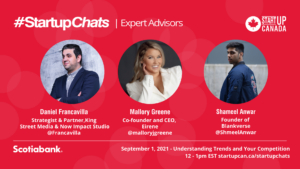 Is competition friend or foe?
A1. If you don't have competition, you probably don't have a business. I like the idea that in many cases competition is simply how somebody is currently solving the problem you are hoping to build a business around #StartupChats

— LYNDON [THINK DIFFERENTLY] JOHNSON (@THINK_Lyndon) September 1, 2021
Absolutely healthy. @RitaKimPFG we cross collaborate with those that some may see as competition. We work together to bring stronger solutions to our clients. There will always be competition. Just be sure to clearly define who you are, what sets you apart and how you serve.

— Rita Kim (@RitaKimPFG) September 1, 2021
A1 | Being open and friendly with your competitors shows you have nothing to hide and demonstrates integrity.

If you're as good at what you do as you say you are, why talk down anyone else? Why not let your work or your product speak for itself?#StartupChats

— Daniel Francavilla (@Francavilla) September 1, 2021
How can we learn about our competition?
A2: Take a look at their social media handles. 👀 This is a good way to learn about the platforms they're on, the kind of content they share, and how they engage their audience. #StartupChats

— MyCorporation (@MyCorporation) September 1, 2021
A2 | Search as if you were your own customer.

Local business directories, local chamber of commerce members, checking who's advertising using your biz keywords on Google.

Trade shows/conferences are also a great way to observe and interact with your competition.#StartupChats

— Daniel Francavilla (@Francavilla) September 1, 2021
A2. Seems to be a recurring theme with my #StartupChats answers…but go out and talk to people. Get involved in your community, and your competition will soon start to surface. I think you should know as much about them as possible, but don't obsess over it either. https://t.co/ZXnEXv1WYk

— Shaun Pingitore (@shaunpingitore) September 1, 2021
Is it effective to follow trends? Does this lead to growth?
A6: It depends on the trend. It's good to be aware of what is going on, but not every trend may be applicable to your business, industry, or customer base. Keep up with the trends though and circle back with your team to share what you learn. #StartupChats

— MyCorporation (@MyCorporation) September 1, 2021
A6 • It depends. If you are looking at social media trends such as Tiktok. It's forsure an effective ways to grow your business as your creating content that people relate to the most and will to share. Which then can effectively build your social media presence. #startupchats

— Shameel (@Shmeelanwar) September 1, 2021
If you want to keep reading about competition and trends, you can see the entire conversation here.  
Related Episodes
Curated Episodes Just For You