On Wednesday, May 25th, we hosted #StartupChats to talk about building a resilient supply chain for your growing business in partnership with FITT. 
We were joined by a great lineup of expert guests;
Greg Gerritsen, CITP
Clarecia Christie, CITP
Audrey Ross, CITP
Igor Chagrin, CITP
Veronica Abella, CITP & FIBP-FITT
Rahim Mohtaram, CITP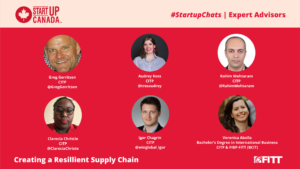 What problems are small businesses facing when it comes to exporting?
A4 some SMEs face incorrect budgeting and financing for going global; instances they did not budget for fees in the supply chain ecosystem nor take into consideration insurance costs. @FITTNews #StartupChats

— Clarecia Christe CITP 🇨🇦 (@ClareciaChriste) May 25, 2022
Insurance is important. I didn't know until I moved to Canada that when shipping you as the product shipper are responsible for ensuring against the boat sinking to cover recovery costs #StartupChats

— LYNDON [THINK DIFFERENTLY] JOHNSON (@THINK_Lyndon) May 25, 2022
So, how do entrepreneurs build resilience?
A6 As we are in the #digitalage Entrepreneurs have new tools to use tracking shipments and communicating with 3PL partners; her the use of AI, Blockchains is playing a big part in managing some supply chain issues @FITTNews #StartupChats

— Clarecia Christe CITP 🇨🇦 (@ClareciaChriste) May 25, 2022
A6. It's connections and knowing who is in the community. @Startup_Canada @FITTNews @wekh_pcfe @ExportDevCanada @TCS_SDC , Chambers of Commerce, @OWITintl etc. #StartupChats

— audrey ross citp|fibp (@tresAudrey) May 25, 2022
Creative methods of forecasting are key, using big data and AI along with intuition will work. Being cautious and putting risk mitigation as the top priority, even before cost reduction. #StartupChats

— Rahim Mohtaram (@RahimMohtaram) May 25, 2022
Recognizing the supply chain challenges in the past few years – what can be done differently going forward?
Yes, We need cross-functional and cross organizational teams including all links in our supply chain, from third-tier suppliers to end-users. @FITTNews, @StartupsCanada, and @ExportDevCanada can help with their professional advice. #StartupChats

— Rahim Mohtaram (@RahimMohtaram) May 25, 2022
A7: We can gladly help every Distributor, Supplier & Vendor to optimize their Supply chain with NetSuite ERP. We offer a 14-day free trial and provide a Free demo based on your requirements. Feel free to email us at info@erpbuddies.com #StartupChats #SupplyChainOptimization

— ERP Buddies Inc. (@buddies_erp) May 25, 2022