On Wednesday, June 22nd, we hosted #StartupChats to talk about diversity and inclusion for startups.
An incredible panel of experts joined us to share their knowledge and provide valuable advice throughout the hour:
Dr Helen Ofosu, I/O Advisory Services Inc
Andrea Pohlmann, Cheekbone Beauty
Cydney Mar, Product Development Strategist
Zoey Schvan, Disabled Entrepreneur Coach
Harar Hall, Quake Lab
Kai Scott, TransFocused
Chett Bradley, Egale Canada
Nicole Jones Crosley, Futurpreneur
Nunzio Presta, Buy And Sell A Business
Darrell Schuurman, the CGLCC
Nancy Beth Guptill, Startup PEI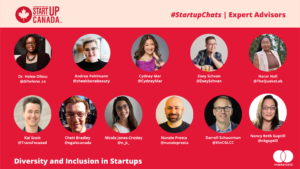 What are companies struggling with when it comes to diversity and inclusion?
Creating space for #DEI in every aspect of the company is important! Having a diversity and inclusion policy for all aspects of the organization, from meeting logistics to hiring to presentation delivery is a first step in embedding diversity in everything you do! #StartupChats

— Elevate (@ElevateTechCA) June 22, 2022
A1: There are so many challenges, but to echo @n_jc_ it is about intention and conversation. We get asked about this a lot as a brand, and we always say to communicate with the people you want to include; talk to communities local to you and see what they need, first and foremost

— Cheekbone Beauty 💋 (@cheekbonebeauty) June 22, 2022
We observe orgs struggle with: 1) being overwhelmed by the # and types of EDI changes needed, 2) siloing EDI work without resources, and 3) not knowing how to fit gender equity with gender diversity objectives. #StartupChats

— TransFocus Consulting, Inc. (@transfocused) June 22, 2022
How can you ensure there is diversity on your team and within your organization?
At @theCGLCC we strive to align ourselves with organizations that support diverse communities and join initiatives that keep us accountable, like signing up for the 50/30 challenge! @Startup_Canada #StartupChats #50_30Challenge

— Canada's LGBT+ Chamber of Commerce (@theCGLCC) June 22, 2022
A2: As our founder and CEO @Sharon_Okeno says in Taking action at work Part 1: Bringing folks in "Solving inclusion challenges must be structural. Don't limit your solutions to what makes you comfortable – get messy, get complicated."
3/4

— QuakeLab (@TheQuakeLab) June 22, 2022
A2. I feel like the term 'disabled' in my title will hopefully make others feel comfortable to share their story #startupchats

— Zoey Schvan She/Her (@ZoeySchvan) June 22, 2022
Why does diversity matter?
A4: So let's start by acknowledging the elephant in the room – if we didn't have this business case for diversity, would it make it ok to create barriers to access for marginalized people?

1/7

— QuakeLab (@TheQuakeLab) June 22, 2022
A4. One reason is a reduction of confirmation bias. Diverse perspectives allow new ideas to be raised, considered and adopted #StartupChats

— LYNDON [THINK DIFFERENTLY] JOHNSON (@THINK_Lyndon) June 22, 2022
Want to keep learning about diversity and inclusion for startups? View the entire transcript of this conversation.