On Wednesday, March 11th during #StartupChats, we celebrated women in small business and recognized their entrepreneur journeys.
We were joined by a trio of wonderful women;
Dwania Peele, Founder of Canadian Small Business Women
Cheryl Appleton, Founder of Canadian Women in Food
Marissa Bronfman, Founder of Shot of Gold superfoods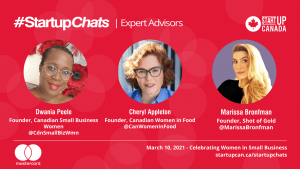 First, we talked about why Canadian role models for women entrepreneurs are important;
A2 Too much of our world was designed without women in mind – and without women involved. By bringing diverse perspectives to the table, you can unlock powerful ideas that open the industry and the world's possibilities to women. #StartupChats

— Mastercard Canada (@MastercardCA) March 10, 2021
A2. 1/2 To show the path of what is possible no matter who you are. They provide encouragement, wisdom, advice, forge a path, lend a helping hand, create new tables to sit at, also to call you out on your "stories" that may be holding you back. @MastercardCA #StartupChats

— Tracey Bissett (@bissettfinfit) March 10, 2021
A2: To inspire young women – showing that not only being an entrepreneur, but a thriving entrepreneur is possible regardless of your sexual orientation. ❤️🧠 > ♀️♂️ #StartupChats

— Team Paide (@team_paide) March 10, 2021
We identified the challenges women face as entrepreneurs;
A3 Starting your own thing calls you forth in ways you don't expect. Having my own company has been life changing, empowering, & nervous making. One challenge I faced early on was having the self-confidence to give this a try; my stubborn streak has kept it alive. #StartupChats

— Kristine Carey (@KristineCarey) March 10, 2021
A3 -I remember being told I needed to "look the part and act the part…" by an organization. I was furious bc as a Black Women, this type of statement is triggering. #startupchats

— CSBW (@CdnSmallBizWmn) March 10, 2021
A3 Women everywhere still face inequality and exclusion. We at Mastercard know we must all do better – as a people, a brand, and a broader society – to ensure that women are fairly and equally represented in all spaces and places. #StartupChats

— Mastercard Canada (@MastercardCA) March 10, 2021
And asked what Canada can do to better support women in business;
There needs to be greater flexibility from financial services companies around investing in women-owned businesses. Our cold climate makes sales in January-February a tough time for entrepreneurs. Cash flow partners are key. #StartupChats

— We Stir You Up! (@CanWomenInFood) March 10, 2021
A5 Even today, inequality and exclusion still hold women back. Mastercard has unique partners that can give your business the advice, support, and tools it needs to thrive. Resources can be found on our website https://t.co/4kxoZPiUe1 #StartupChats

— Mastercard Canada (@MastercardCA) March 10, 2021
I am grateful for & inspired by the work @mary_ng is doing on behalf of the Canadian government & @JustinTrudeau to empower women entrepreneurs 🇨🇦 We can always do more! Especially for BIWOC & LGBTQ2S+ women. That's where our @wearewomxn focus is!#startupchats @MastercardCA https://t.co/QIArc0GN7E

— Marissa Bronfman (she/her) (@MarissaBronfman) March 10, 2021
If you want to see all of the topics we covered during this chat, you can see the whole transcript here.