On Wednesday, December 1st, we hosted #StartupChats to talk about Diversity and Inclusion Strategies for Startups.
We were joined by a great panel of experts;
Darrell Schuurman, the CGLCC
Kristine Carey, Business Coach
Nicola Jone-Crossley, Futurepreneur
Cydney Mar, Product Development Consultant
Suzanne Brown, Marketing Strategists
Shadi Yazdan, Coach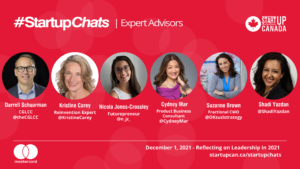 What does leadership truly mean?
A1 At Mastercard our leadership principles are reflected through behavior, not organizational titles. Our principles are applicable to everyone because leadership happens at every level, with every interaction & connection. #StartupChats
— Mastercard Canada (@MastercardCA) December 1, 2021
Being a leader means you're in a trusted position of guidance and accountability. Personally, I look at it as an opportunity to serve and help people grow personally as well as in their career.#StartupChats

— Colin McGuire (@realColinMac) December 1, 2021
A1 #StartupChats: Leadership means you don't know all the answers. Continue seeking out and listening to diverse voices. #Leadership @Startup_Canada @MastercardCA

— Nicola Jones-Crossley (she/her) (@n_jc_) December 1, 2021
How did remote work change the way we lead?
A4: For us, it emphasized the importance of creating boundaries between work and life as we worked from home. Learning how to unplug and the importance of recharging internally after a long workday/week. #StartupChats

— MyCorporation (@MyCorporation) December 1, 2021
Remote work has really driven home the importance of being intentional with meetings and respecting people's time. On the flip side, it's also emphasized the need to take some extra time of your own to check in with everyone. #StartupChats

— Canada's LGBT+ Chamber of Commerce (@theCGLCC) December 1, 2021
A4 #StartupChats: I think for a lot of organisations and leaders, the shift to remote work prompted formalising the informal. The informal check-in's with team members in the kitchen are now scheduled meetings, relationship building has taken on a whole new meaning. #Leadership

— Nicola Jones-Crossley (she/her) (@n_jc_) December 1, 2021
We learned a lot during this conversation, check out the entire conversation to learn more!