On Wednesday, June 9 during #StartupChats, we talked about The Ins and Outs of Starting Up with Scotiabank.
We were joined by three incredible entrepreneurs;
Karla Briones, Karla Briones Consulting
Philip Passadetti, Revolve Technologies
Nancy Beth Guptil, Startup PEI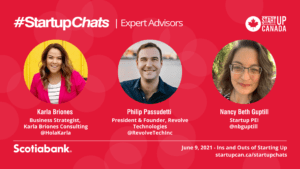 First, we talked about evaluating your idea;
There are many ways to test the validity of your idea. We use the Wendy Kennedy's WKI Ideation Frameworks that helps founders identify the market potential in their idea, while giving them the business language necessary to discuss with investors @Scotiabank #StartupChats

— Nancy Beth Guptill (@nbguptill) June 9, 2021
Make sure your business idea solves a problem for your ideal customer.
Do you get REALLY excited about it? If there is no passion or excitement, it will be hard to get through the hard times.
Is there a key difference between you and competitor? #startupchats @scotiabank

— Karla Briones (@HolaKarla) June 9, 2021
A1. Talking to people, focus groups, market research, be sure that the offer and price point are aligned – if not adjust one or both and if you can't make it work, move on to another idea. #startupchats

— Tracey Bissett (she/her/hers) (@bissettfinfit) June 9, 2021
Then, we talked about passion and vision for our businesses;
A5 I'm in the early stages of this but having clear biz values + communicating that to candidates/new hires. Also living your values, day in and out. E.g. one of my core values is mutual respect. My team knows that their voice matters as much as mine. #StartupChats https://t.co/8at2OGCFs0

— Jasmine | Copy + Content Strategy (@TheJasWilliams) June 9, 2021
A5. 1/3 Be clear with your vision and what you stand for. When you are authentic it allows people to decide if they want to be a part of it. @Scotiabank #StartupChats

— Tracey Bissett (she/her/hers) (@bissettfinfit) June 9, 2021
A5: Clearly define your purpose, vision, and plan for helping others. Then, establish a call to action that encourages others to get involved and work together. #StartupChats

— MyCorporation (@MyCorporation) June 9, 2021
And businesses need money, so we talked about that too;
A6. Self-fund as far as you can. Only take money when you don't need it #StartupChats

— LYNDON [THINK DIFFERENTLY] JOHNSON (@THINK_Lyndon) June 9, 2021
A6. You should establish credit in the name of your company as soon as you begin. At the beginning, financing will be based on your personal credit score. Likely need to leverage personal resources at start up stage. @Scotiabank #StartupChats

— Tracey Bissett (she/her/hers) (@bissettfinfit) June 9, 2021
A7 –

– Bookkeeping is your friend
– Under many circumstances you are the businesses guarantor
– Your finances impact your business. If you max out your credit card to start the company, it can absolutely impact the businesses ability to raise funds.#StartupChats

— Colin McGuire (@realColinMac) June 9, 2021
If you want to see the entire conversation, you can see the transcript here.