On Wednesday, September 8th, we were joined by three great experts to talk about Inclusion and Diversity for Startups
We were joined by;
Dolma Tsundu, Founder of Flutter Care Inc
Travis Richards, Founder and Social Media Specialist at Travis Richards Office
Maddie Stiles, Digital Production at Startup Canada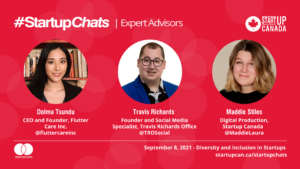 Are diversity and inclusion the same thing?
A2 1/ No, they are not the same thing. At Mastercard, we define diversity as all the things that make us similar & different while inclusion is defined as a leadership skill set that allows leaders to build & keep diverse teams. #StartupChats

— Mastercard Canada (@MastercardCA) September 8, 2021
A2. I think the difference would be that diversity is a thing that either exists or doesn't in your workplace, whereas inclusion is the activity of promoting and maximizing the benefits of having diversity. #StartupChats https://t.co/tQEuKictlf

— Shaun Pingitore (@shaunpingitore) September 8, 2021
Oh hey! Yes, it's from @VernaMyers – "Diversity is being invited to the party; inclusion is being asked to dance." #StartupChats

— Jasmine | Copy + Content Strategy (@TheJasWilliams) September 8, 2021
Who is responsible for diversity and inclusion?
A5 Everyone is equally responsible for creating a workplace that is diverse, inclusive, and equitable. Leaders have a particular responsibility to look around the table to see whose perspective is missing and actively create inclusive infrastructure. #StartupChats

— Mastercard Canada (@MastercardCA) September 8, 2021
A6. I agree that the entire team is responsible, but that it especially needs to be a priority among leadership. #StartupChats

— Flutter Care (@fluttercareinc) September 8, 2021
A5 Really interesting question! I think everyone is responsible for making those around them feel included, but leadership teams have the additional role of building & constantly improving D&I structures/processes for all to follow #StartupChats

— Lauren Hicks (@Hix21Lauren) September 8, 2021
Which organizations can help you build more diverse and inclusive startups?
A8 There are many available in Canada including Canadian Centre for Diversity & Inclusion, Canadian Race Relations Foundation, Commission de droits de la personne et des droits de la jeunesse, SEED (Supporting Employers Embracing Diversity), & Mastercard Start Path #StartupChats

— Mastercard Canada (@MastercardCA) September 8, 2021
Want to continue to learn about this topic? Read the full transcript of this #StartupChats conversation.