On Wednesday, March 3rd during #StartupChats, we talked about mentorship with Scotiabank.
We were joined by a trio of experts to dive deep into what mentorship means and looks like and the power it holds to accelerate and support our careers.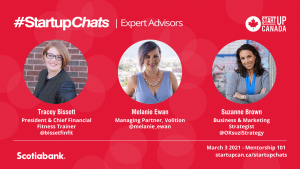 We defined mentorship and what it looks like;
A1. To me, mentorship can be informal or formal and extends to all areas of life, not just work. When it comes to career mentors, though, mentorship serves not only to provide an ear and guidance but also to provide opportunity. #StartupChats @Startup_Canada @thisisvolition https://t.co/NpnK7wNOpU

— Melanie Ewan (@melanie_ewan) March 3, 2021
A2 Mentorship is having a personal board of directors. These are a small group who can:
*Provide guidance
*Help you make better biz/career decisions
*Teach you new skills, ideas, etc.
*Provide a sounding board for your ideas/projects
*Share relevant experience#startupchats

— Suzanne Brown/Biz + Marketing Strategy (@OKsuziStrategy) March 3, 2021
A2: Mentorship means having a cheerleader in your corner. They are supportive and enthusiastic about what you are doing. Mentors are rooting for you to reach and achieve success. #StartupChats

— MyCorporation (@MyCorporation) March 3, 2021
We talked about what we have learned through mentorship;
A4. For me, it's all about how they think – about how they approach things. I want to understand where my strategic blind-spots are so that I can evolve both how I see challenges and how I find ways to overcome them #StartupChats

— LYNDON JOHNSON (@THINK_Lyndon) March 3, 2021
A4. Respect for boundaries and setting expectations including amount of time, schedule, range of topics we cover. I think it is important to agree on these things up front. ie: is this an ongoing mentoring relationship or one time. @scotiabank #startupchats

— Tracey Bissett (@bissettfinfit) March 3, 2021
Q4. Another thing to learn: like all relationships in life, not every mentor relationship will last forever & that's ok. It's ok to 'outgrow' the relationship or realise it's not a fit. Some are super informal too, more friendships. #StartupChats @Startup_Canada @thisisvolition

— Melanie Ewan (@melanie_ewan) March 3, 2021
And whether or not mentorship truly can accelerate careers and personal growth;
A8: Absolutely not.
Unfortunately, there was really never any "formal" mentor/mentee relationship, just those who I now look back & am grateful for their mentorship…but I never got to thank them for it.#StartupChats

— Mark Carruthers (@MarkC_Avgi) March 3, 2021
A8: I think I would have been much further along in my career had I had a mentor to guide me. I have always depended on myself and learning from YouTube. And now I am getting tons of value from Clubhouse. #StartupChats

— Shadi (@ShadiYazdan) March 3, 2021
A8/1: Yes. I don't mean this with any disrespect or in any egotistical way. A mentor can get you thinking, but it's ultimately up to you to take action and execute. I know many people with strong networks and unbelievable mentors that don't accomplish much. #StartupChats

— Buy and Sell a Business® (@buyandsellabiz) March 3, 2021
A8 If you can find the right kind of mentor & it may happen inadvertently, do it! It can change your life, as they will share with you as they have already learned the pitfalls, the dead ends, help you mitigate risks in your career & see you lift off. @Scotiabank #StartupChats

— Cydney Mar 🌸Fun Product Development Strategist🌸 (@CydneyMar) March 3, 2021
If you want to see all of the topics we covered during this chat, you can see the whole transcript here.