Unfortunately, in-person gatherings and celebrations aren't possible due to the lockdown in Canada, but that doesn't mean we can't still celebrate Pride Month together. Thanks to the digital ecosystem, we can host and enjoy wonderful events virtually from anywhere, anytime, any day. With that being said, we have compiled a list of organizations all across Canada that are hosting events for Pride Month. So, don't miss out on the festivities!
Find your community to celebrate Pride Month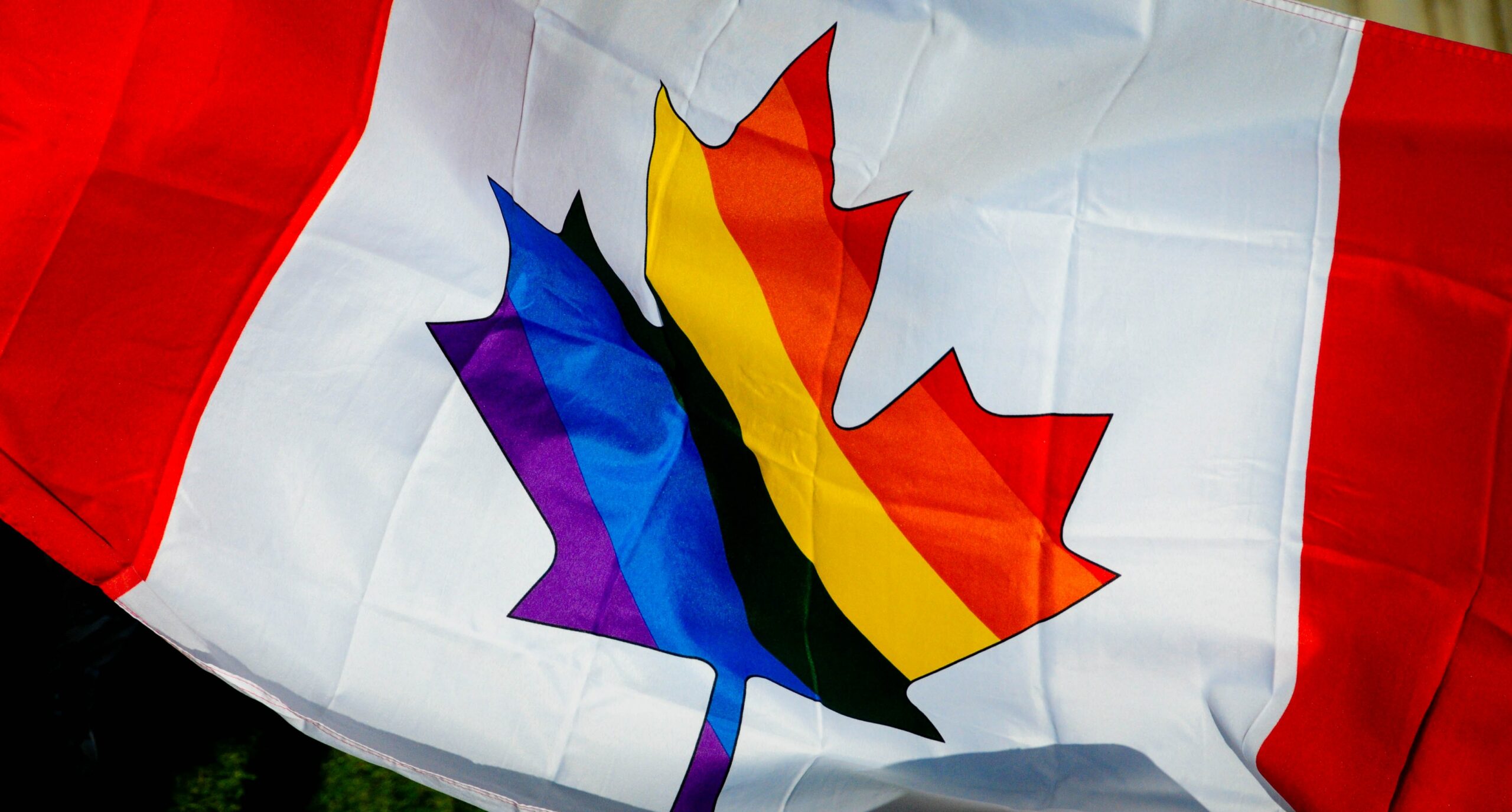 There are a lot of different organizations and events that happen all across Canada in celebration of Pride Month—with some communities celebrating at different times too. Not only does it show the resilience of Canada, but also the strength of our communities, whether big or small. We know that it can get confusing to know what's going on where. That's why we've done the work for you.
Here's a list of organizations across the different provinces in Canada that host Pride Month celebrations. If you know an organization that isn't on this list that you feel should be added, please send an email to hello@startupcan.ca. Note: Different cities celebrate Pride Month at different times, so be sure to check the dates of each of the events.
National
Alberta
British Columbia
Manitoba
New Brunswick
Newfoundland and Labrador
Northwest Territories
Nova Scotia
Nunavut
Ontario
Prince Edward Island
Québec
Saskatchewan
Yukon
How Startup Canada is honouring LGBTQ2+ entrepreneurship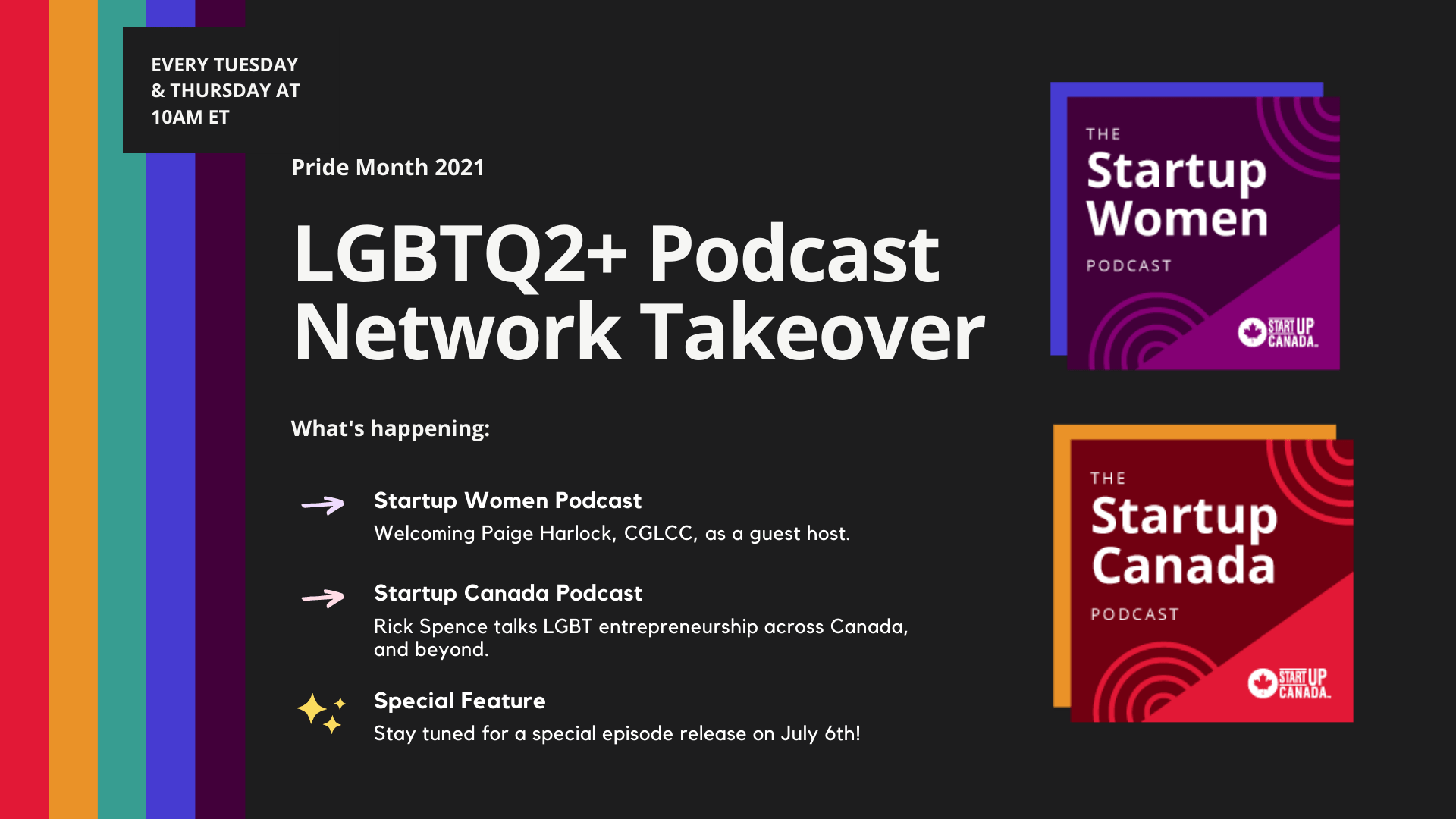 Here at Startup Canada, we believe in inclusivity for all. To celebrate and honour Pride Month in Canada, we're having a Startup Canada Podcast Network LGBTQ2+ Takeover! What does that mean? Let us show you:
Startup Women Podcast (Guest Host Takeover)
Paige Harlock, Manager of Youth Entrepreneur & Partnerships at Canada's LGBT+ Chamber of Commerce (CGLCC), will be the guest host for our Startup Women Podcast. Join Paige and take a deep dive into LGBTQ2+ entrepreneurship across Canada.
Startup Canada Podcast (Topic Takeover)
Join our beloved host Rick Spence on the Startup Canada Podcast as he pivots the conversation toward LGBTQ2+ entrepreneurship with Patrick Hunter (Patrick Hunter Art & Design), Florence Gagnon and Sandeep Nair (Pride at Work), Kai Scott (TransFocus), Jad Jaber (The Marginalized Majority), and Connie Stacey (Growing Greener Innovations), covering topics such as trans inclusion, the bridge between Indigeneity and queerness, intersectional identities and more.
Special Episode Release on July 6th
Sorry, we can't reveal too much just yet! But rest assured, this is an episode you wouldn't want to miss. We would just leave you this little clue: 🇺🇸⚽👭, don't tell anyone yet 🤫.
We would like to clarify that our LGBTQ2+ Takeover is not simply random episodes with guests from the LGBTQ2+ community. These are episodes by and for LGBTQ2+ founders, as well as including those who are interested in improving their knowledge on how to be more inclusive in their workplace and beyond.
We understand that celebrating Pride Month in Canada is always more exciting in-person, but as long as you still get to connect and celebrate with your community with pride, it'll be worth it. So, grab your favourite people, and find the most exciting events happening close to you!