On Wednesday, September 28, we hosted #StartupChats to talk about Failures and Knowing When to Pivot or Quit.
We were joined by a great line up of expert guests;
Suzie York, CEO of The Better Chocolate
Jonathan Friedman, President and Co-Founder, The Journal That Talks Back
Reena Khullar, Founder and CEO, Agilis Executive Coaching
Nunzio Presta, CEO of BuyAndSellABusiness.com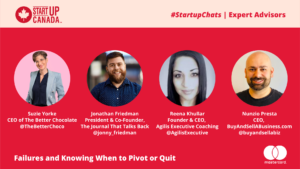 Is failure a big enough part of the entrepreneurship conversation?
Everyone loves a fail compilation video, but not so much when it comes to business fails. Were excited to dive deeper into this topic today! #StartupChats

— Startup Canada (@Startup_Canada) September 28, 2022
A1 Entrepreneurship can sometimes feel like you're in it alone, which makes it harder to share. This is why communities like Startup Canada, where you can find mentors and resources, are so important. The more sharing, the more it becomes normalized! #StartupChats

— Mastercard Canada (@MastercardCA) September 28, 2022
I don't think so. We all hear about the overnight successes…but often we don't hear about the 15 years it took to get there. The ups and the downs include so much learning that I love to learn about💙

— Jonathan Friedman (he/him) (@jonny_friedman) September 28, 2022
When do entrepreneurs need to pivot?
A4. Rarely. I think many entrepreneurs pivot too often, rather than continuing to run controlled experiments and failing (albeit on lesser scales) until they resolve the obstacle #StartupChats

— LYNDON [THINK DIFFERENTLY] JOHNSON (@THINK_Lyndon) September 28, 2022
A4: That's a tough one because it would vary person to person and situation to situation. It's hard to be an entrepreneur and often part of the journey is pushing through and not everyone is able to do that. -Suzie #startupchats

— The Better Chocolate (@TheBetterChoco) September 28, 2022
I would say becoming complacent and unable to challenge your thinking in order to promote a growth and learning mindset. Overcome the fear of the unknown and it'll create some pretty incredible possibilities to achieve success as defined by you! #StartUpChats

— Reena Khullar (@AgilisExecutive) September 28, 2022
Do entrepreneurs ever get comfortable with pivoting?
A6: I always say you should have something steady. What pays you the most amount of 💸 for the least amount of ⌛️. This foundation provides you with a level of comfort while allowing you to be aggressive on your pivots, in addition to experimenting w/ new ventures. #StartupChats

— BuyAndSellABusiness.com (@buyandsellabiz) September 28, 2022
A6: Financing is always an issue for entrepreneurs and when you are just starting out or pivoting from your original plan it's going to be a bigger issue. I'm not sure there is a way to get comfortable. -Suzie #StartupChats

— The Better Chocolate (@TheBetterChoco) September 28, 2022
This is the place to do lots of research and lots of practice. Talk to everyone you can and come to every #startupchats to take in what you can. While research can make the first pivot more comfortable, it's ultimately practice that makes pivoting perfect☺️🎉

— Jonathan Friedman (he/him) (@jonny_friedman) September 28, 2022
Want to continue learning about this topic? View the entire conversation!