Oh how we love the month of June. The first days of summer, the temperatures are getting warmer, the sun is shining harder, and our favourite part of it all, the celebrations for Pride Month! 
At Startup Canada, we strive to recognize and include entrepreneurs of diverse backgrounds and experiences in our programming all year round. With the excitement associated with June's Pride festivities, in partnership with the Canada's LGBT+ Chamber of Commerce (CGLCC), Egale Canada, Futurpreneur, and TransFocus Consulting, we decided to launch a brand new 2SLGBTQ+ resource guide dedicated to highlighting resources and support for 2SLGBTQ+ founders. 
Additionally, on the Startup Canada Podcast, Rick Spence teamed up with CGLCC's Paige Harlock for our 2SLGBTQ+ podcast takeover. In this piece, we'll share some of the key takeaways from each of our episodes and share more about our brand new resource guide.
We began the month with AK MacKellar, Founder of Free to Move Wellness, the body inclusive movement platform for the 2SLGBTQ+ community. In this episode, we explored how entrepreneurship allowed MacKellar to follow their passion, embrace their curiosity, and advocate for a welcoming space that allows marginalized individuals to feel good in their body and take care of their mental and physical health.  
"The fitness space is really based in exclusion. If you don't fit a specific mold – you don't fit in those spaces." – AK Mackellar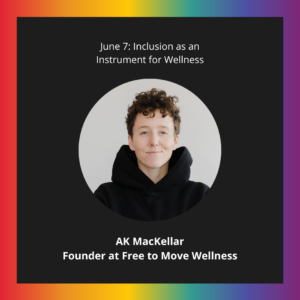 In this episode, some key takeaways included:
Following your passion and channeling it into entrepreneurship

Leveraging social media to build your brand and using new platforms such as TikTok to reach new audiences

Navigating through gendered systems that typically exclude gender diverse individuals

We moved on to speak to Naoufel Testaouni, CEO of QueerTech, an organization that aims to Queer The Tech Ecosystem by breaking down barriers, creating spaces, and connecting communities to support and empower 2SLGBTQ+ people to thrive. In this episode, we dove into why we need more 2SLGBTQ+ representation in tech and what we can do about it. 
"You want to start your diversity strategy on day one." – Naoufel Testaouni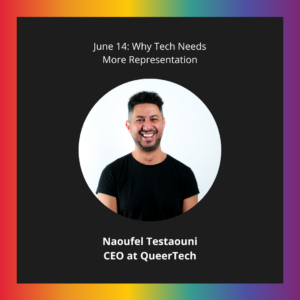 In this episode some key takeaways included:
Integrating your diversity strategy into the fabric of your company right from day one

Approaching EDI from an authentic manner to avoid performative actions

Creating safe spaces to allow individuals to bring their whole selves to work
The third episode in our takeover featured Andrew Gurza, disability advocate and co-founder of Bump'n, a sex toy company for and by disabled people. In this episode, we discussed storytelling, building accessible spaces, and fostering a community around your brand. 
"Instead of looking for a 9-5 that is inaccessible to you, make your own job." – Andrew Gurza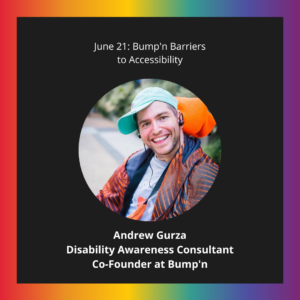 In this episode some key takeaways included:
Building accessible workspaces and the opportunities associated with remote working

Taking a chance and jumping all into your business

Empowering folks with disabilities through entrepreneurship and creating your own job
We concluded our takeover with Sarah Fodey and Han Nguyen. Sarah Fodey is a Managing Partner at SandBay Entertainment, one of Canada's foremost production houses dedicated to diverse, inclusive, and intersectional cinematic storytelling. Han Nguyen has vital industry experience in every screen-based medium. From feature films and shorts, to scripted series and documentaries, Han has delivered content to CBC, TVO, YTV, TFO, APTN, Amazon Studios, and Lifetime. In this episode we explored the power of intersectional storytelling and the importance of contributing to the Queer Archive through their films.
"Beyond desire, we feel a responsibility to tell these stories. We have the privilege of holding the microphone."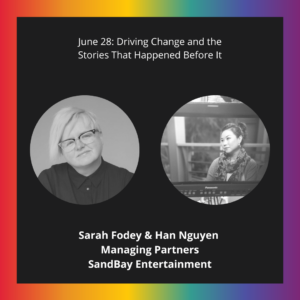 In this episode some key takeaways included:
The difficulties associated with funding Queer stories

Prioritizing authenticity and finding your voice

Showcasing diverse stories and experiences
It was an honour to share the mic with these passionate and hardworking founders. We will continue to amplify their stories and share the incredible work that they're doing.
Wrap-up & Resource Guide
Directed by CGLCC's expert knowledge, and curated by Startup Canada, we are proud to assemble and present this resource guide for 2SLGBTQ+ founders across the country. 2SLGBTQ+ entrepreneurs across Canada face barriers that other communities don't. 2SLGBTQ+ entrepreneurs need resources, support, and content that empowers them within the startup ecosystem. 
Within this resource guide, you can access documents, videos, spreadsheets, infographics, and more submitted by CGLCC, Egale Canada, TransFocus Consulting, Futurpreneur, and more organizations to come. From support organizations, to building inclusive workplaces, and learning modules around allyship, there's something for everyone to accelerate your business forward. If you have more resources or tools that you'd like to be included in this guide please email Maddie Stiles at maddie.stiles@startupcan.ca and Ryan Richard at ryan.richard@startupcan.ca.