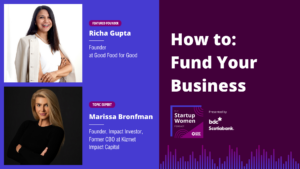 "In terms of funding, our business has been solely bootstrapped and we kept it bootstrapped for a reason. And for us the idea was to keep 100% control because we are building a purpose-driven company. Good Food for Good is not just a business for me, it is me building my life around living my values."  – Richa Gupta, Good Food for Good
The topic of funding is one commonly associated with stress and anxiety for founders – but it doesn't need to be. Financing your business is an exercise rooted in patience, planning, and purpose. It's a unique opportunity to imagine, and reimagine, what our ventures can and should look like in the future.  
In May, our Startup Women Podcast host Kayla Isabelle sat down with two incredible women, Richa Gupta (Founder of Good Food for Good) and Marissa Bronfman (serial entrepreneur, impact investor and former CBO of Kizmet Impact Capital). Together, we explored the hesitation that can arise when bringing funding partners into your business and uncovered what you can expect as you make funding decisions for your business.
Funding is the vehicle for your venture and without it, growing your business is a challenge. For women, there are even more barriers when it comes to accessing capital.
Marissa Bronfman (Impact Investor): One of the exciting things about this emerging industry that we call impact investing is that hopefully in a few years, all investing is impact investing. We shouldn't have to talk about impact versus traditional, just like we shouldn't have to talk about underrepresented founders versus founders. But unfortunately, we do still see less than 3% of venture capital go to women founders all over the world. All over the world, we see less than 7% of partners at venture capital firms are women. So although we say statistically, women perform better across the board, when we give women more money, they perform better. It's not conversations, statistics support this. 
There are many ways to fund your business. Are some of them better than others?
Richa Gupta: I don't think there is a wrong way or a right way, it all depends on what your end goal is. It is great if you want to raise money and bring in partners from the get-go, as long as you know where you want it to end up. I know several fellow founders who raised a ton of capital, even before making the product, and power to them, right. They needed the money, and they thought they have to grow at a certain pace, to be at a place in the market for where they wanted the business to be. For me, it was important that I was happy with what I was doing. A great way to raise money is to bring in partners who can not only help you with financing but can also help you in other ways. 
How can founders approach funding? And how do you determine the best route for you and your business?
Marissa Bronfman: Every person, every business, every startup, every dream is different. It's unique in some way. But that being said, we often see similar trajectories that people tend to follow. One is like Richa's experience, being bootstrapped to a point of having massive supply and demand where she has created something very special that investors want to be a part of. Good Food for Good is at this inflection point where investors would come to her and say, do you want our money? Versus the opposite which happens when you have an idea or you only have a minimum viable product, where investors are a little bit warier. 
Want to continue learning from Richa's experience and Marissa's advice? The two continue to walk through how to best research investors and begin to build a relationship with them as well as how to determine which investors may be the best fit for your business. Listen to the full episode to hear why Funding is so important for women entrepreneurs and for more advice on how to acquire it.
Resources from this Episode:
Startup Canada Business Owners Tool Box: Funding Module
Arlan Hamilton at BackStage Capital
Check out Grit Capital: A Platform Connecting Investors
Perspectives from Kirsten Green, Partner at ForeRunner
Business Development Bank of Canada Capital: Financing Your Business
Business Development Bank of Canada: Money and Finance Resources
Scotiabank Women Initiative: Access to Capital, Education and Mentorship