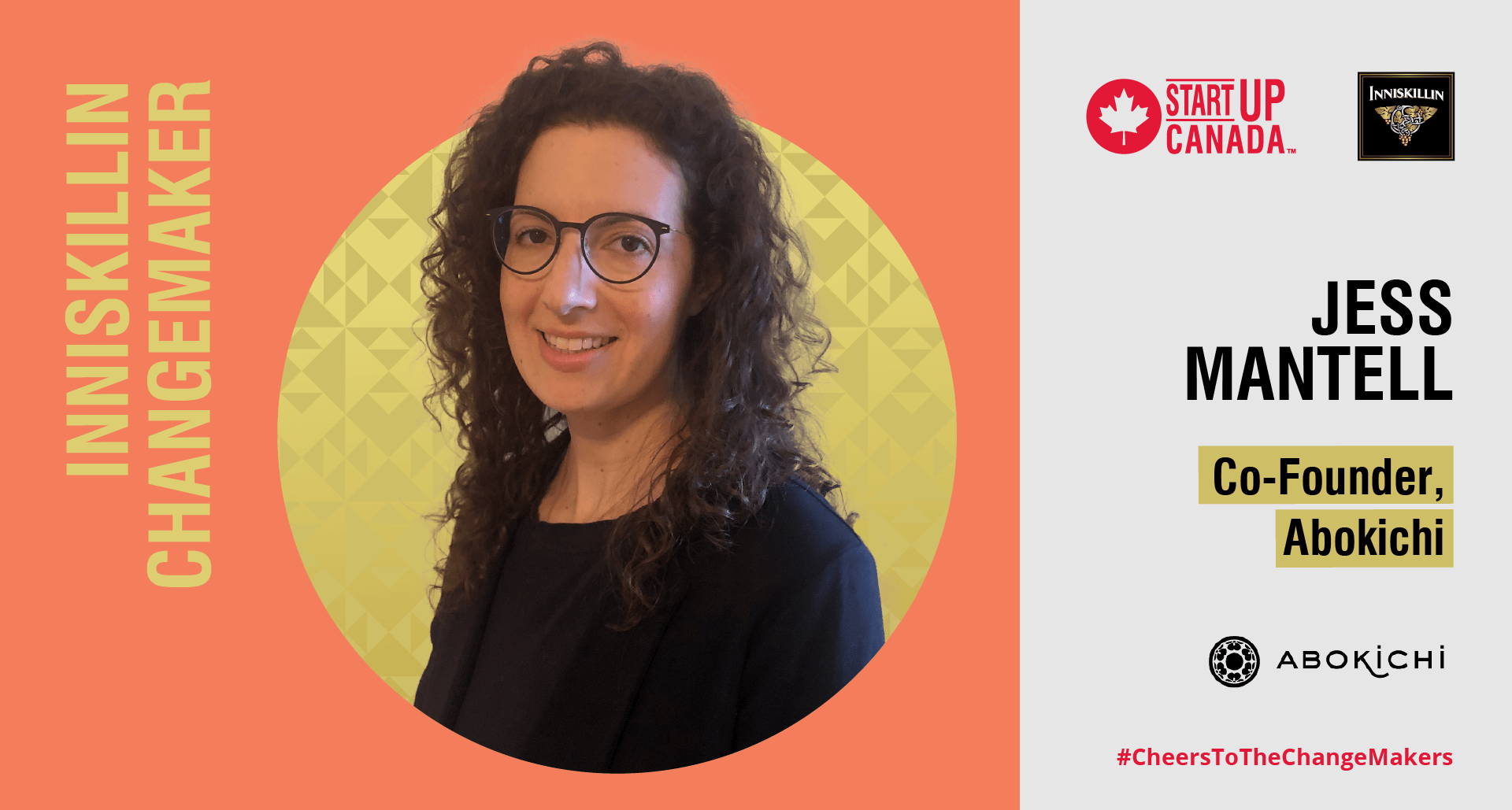 Inniskillin Changemaker: Jess Mantell
"Always strive to grow and do better – and expect the same from your team."
In partnership with Inniskillin, Canada's first estate winery, Startup Canada is celebrating and spotlighting leading entrepreneurial changemakers and disruptors across Canada. Startup Canada was pleased to sit down with Jess Mantell, Co-Founder of Abokichi, to learn about their journey and the impact of their work.  
Jess Mantell is a Co-Founder of Abokichi, Inc., makers of the gold Sofi Award winning OKAZU miso chili oil sauce. Originally from a Toronto suburb, her fascination with cities brought her to Tokyo where she worked as a graphic designer and earned a masters degree in media design from Keio University. This is also where Jess developed a fondness for trying new foods. Abokichi was born out of a desire to share some culinary delight with western consumers, and to create a company with super high standards of quality, customer service, employee satisfaction, and social responsibility. When not sitting at her desk with her Abokichi hat on, Jess enjoys experimenting in the kitchen, hiking, and playing with her toddler.
SC: In one sentence, what does being an entrepreneurial changemaker mean to you?
JM: Being an entrepreneurial changemaker is about creating value and impact where there was previously none and doing so profitably.
SC: Tell us about your entrepreneurial venture(s) – what do you do? What role has it played in your life?
JM: In short, Abokichi makes delicious, clean-label, Japanese inspired condiments and food. Our miso foods are made with a byproduct of sake making and we are currently working on more products that will help to divert food waste. We offer solutions for people with restrictive diets while also sharing unique flavours and information about culture in the ingredients we use. I started the company in 2013 after returning to Canada after moving to Japan for a while. In the last seven years we have pivoted from being a pop-up shop at farmer's markets to a brick and mortar shop selling fresh, prepared food to now a manufactured food producer. Our products are available in stores across Canada as well as online.
In terms of the role Abokichi has played in my life – it's huge. It impacts how I work, where I live, and, because of the industry we are in, what I eat.
SC: What motivated you to become an entrepreneur?
JM: While I was in Japan, I went to grad school where I founded and led a project within my department. It was a huge learning experience for me. It was the first time I made something completely from scratch that people responded to with joy and support. So as a whole, that was very inspiring for me. Unfortunately, that project itself was not profitable but I loved the idea of pivoting and having control over something like that. I knew the next time around it would result in a smart business model.
SC: What are you most proud of related to your venture(s)?
JM: I'm proud that we have grown to the size that we are even though we still consider ourselves to be small. We have created jobs and opportunities and we have put together a great team. I am also proud of the following we have created – hearing from loyal customers or getting positive reviews of our products feels great.
SC: Tell us about your biggest hurdle – what was it and how did you persevere  through it?
JM: Our biggest hurdle was the transition from the brick and mortar shop to the online, wholesale model. Closing the shop to focus on our shelf stable products was difficult financially but it was necessary to grow and scale. With that transition came a huge shift in learning – it was just a very different way of working and a new way of selling. At that time, the business consisted majorly of me and my business partner, who is also my wife. We knew we needed to make the transition so we brought in a third partner who complimented our skills and knew this new market. Another big hurdle has been educating the public on something they have never heard of and then convincing them to eat it. That's a unique barrier with our brand.
SC: What has your biggest learning been along the way?
JM: Learning to delegate work and to work efficiently – I really do think this is a vital skill. When you are in a leadership role and are running the show, it is easy to jump in and try to do everything but you can't.
SC: What drives your motivation when things get tough?
JM: The will to succeed and the knowledge that nothing is easy all of the time. That's the reality of being an entrepreneur – a challenge arises and you learn to deal with them as they come and grow from that challenge. Thankfully my partner is also very entrepreneurial. We have different skill sets and experiences that often have us working in different areas of the company so we rely on each other for different perspectives.
SC: Where can people go to learn more about your journey and organization?
JM: They can go to our website www.abokichi.com. They can also follow us on social media at @abokichilife on all platforms!
SC: What is your ideal vision for Canada's entrepreneurship community over the next 20 years?
JM: The pandemic has been tough on many industries, including food service, while other opportunities have developed and will continue to do so. So now that we have all had a crash course in online work and collaboration, entrepreneurs in a country like Canada – which is so big and really spread out – can really benefit from being able to work remotely. I see a huge opportunity for collaboration and making connections across the country because we are so much more connected now.
SC: What do you think today's entrepreneurs should be focused on for a better, brighter future?
JM: I think it's about hitting your triple bottom line. Making sure that, in addition to being profitable, your company also serves people and respects the planet. Always strive to grow and do better, and expect the same from your team.
Are you an avid supporter of Canada's entrepreneurship community? Share Jess's story or showcase your OWN entrepreneurial changemaker across social platforms with the hashtag #CheersToTheChangeMakers!